Welcome to Uppsala!
How to pay for your parking
You can pay with debit card in our parking metres or with your mobile phone. For more information about parking with apps on your mobile phone, visit the websites of EasyPark or Parkster .
Debit cards accepted by our parking metres are:
Visa, MasterCard, St1, Volvo-card, Circle K, Shell, OKQ8 and Preem.
What do the signs say?
The most important concepts are explained here (PDF, 204 KB)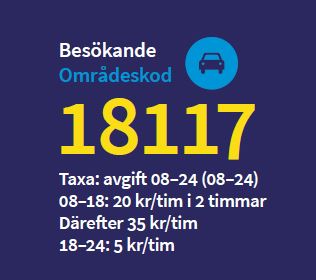 Report fault
If you want to report any fault regarding our parking meters or charging stations please call:
018-727 00 00.
Contact us
If you want to get in touch with us and get more information in English please contact us at the following number: 018-727 40 10 or contact us by e-mail: info@uppsalaparkering.se
Office hours:
Monday-Thursday 09.00 – 16.00
Friday 09.00-15.00
Closed for lunch: 12.00 – 13.00
For opening hours (öppettider) in our garages,click below
Centralgaraget
Kvarnengaraget
Dansmästaren (always open)
About us
Uppsala Parkerings AB is a municipal company owned by Uppsala Stadshus AB.
We own two parking garages (Centralgaraget, Dansmästaren) and manage another one (Kvarnengaraget) with a total of about 1000 parking spaces. The company also manages all parking in the public street area, about 10.000 parking spaces and 2.500 on municipal land block.